Betfair Sports Betting Review
Online sports betting has become a regular pastime for many people, resulting in a strong selection of platforms being created and made available for players to place their wagers via.
Starting out in the online world back in 2000, Betfair is currently licensed in both the United Kingdom and Australia, and has twice received the Queen's Award for the International Trade in the category of Innovations in years 2003 and 2008. The platform is one of the world's largest international online sports betting providers, and it was they who pioneered the first successful betting exchange in the year 2000.
Sports Offered
The Betfair platform allows players access to placing wagers on various different sports, with the main draws being to football, horse racing, tennis, cricket and greyhound racing. These five have their own specialised tabs on the homepage, providing customers with up-to-date instant information on odds for various games and events.
Alternatively, registered members are able to take their pick from a total of 31 different sports, with the aforementioned five being joined by such options as rugby league, golf, handball, darts and badminton, to name but a few. Not only that, but this platform also gives its players the chance to place wagers on a few non-sporting events, such as politics and Celebrity Big Brother.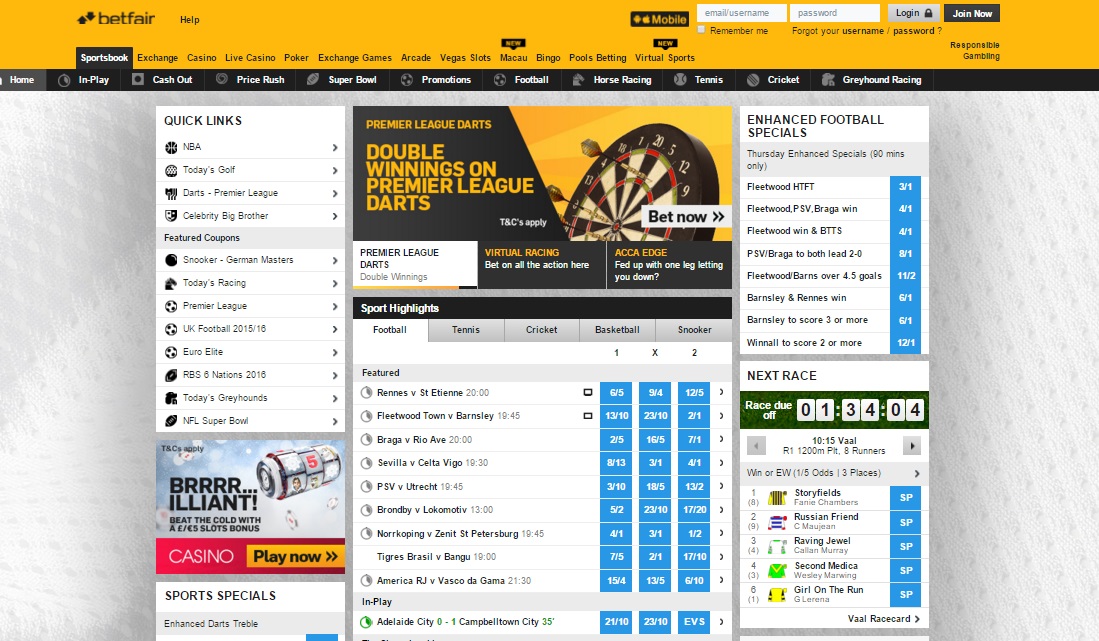 Live Betting
Gamers who are interested in placing wagers while a game is currently taking place are able to do so via the 'In-Play' tab from the homepage.
This will then bring up a list of football, greyhound racing, tennis or horse racing events currently occurring, as well as the choice of wagering options that a person has. This means that you're able to place a wager on an ongoing game based on what you believe to be the end result, half time result, or any number of other options, including an over or under a specific amount of goals option.
After choosing your preferred in-play sport and whichever type of wager you'd like to make, the page brings up a list of all the games included in that choice and the odds for them, allowing you to place a bet either one way or the other.
Odds Offered
Reverting back to the homepage will allow players to see the 'Sport Highlights' section of the site, and in the process, see the different odds on offer. Each different sport will provide different wagering options. For example, placing bets on a football game will allow members to place bets in the first place on whether it will finish in a draw, a win for a specific team, or a loss for a specific team.
Alternatively, you're able to bet on such options as 'Both teams to Score' and such simple odds as whether one team will beat another, with a simple 'Yes' or 'No' choice. Other events, such as tennis, will only offer up options for which player will win or which will lose. Odds can be shown as Fractional or Decimal displays, catering to both European and US players.
Betfair's Welcome Bonus
Locating the welcome bonus at Betfair isn't a particularly easy thing to do, and heading over to the promotions section of their website only displays a £10 welcome bonus for the arcade selection of games. However, should you open a new account and use the code ZSK200, you'll be able to take advantage of a little something extra special. Following your registration, you simply need to place a single betfair sportsbook bet on any market with a minimum stake of £10 at odds of at least 1/5 (1.2) and the company will then provide you with £30 in free bets, paid as three £10 free bet tokens.

Customer Support
The help centre at Betfair is very easy to use, and will often times provide answers to all your queries before you need to contact anyone. However, if you do feel the need to speak with an agent, this is able to be done in the first instance via the live chat feature. Alternative to this, there is the option of contacting them on the telephone by using the number, 0344 871 0000 for UK customers, and 0044 203 059 8888 for international members. Phone calls can be made between the hours of 07:30am to 00:30am GMT, while live chat is open 24/7.

Mobile Betting at Betfair
If you like to keep informed on the latest sports games and events but don't always have a computer handy, at Betfair, you're also able to download the platform's app to your mobile device.
Compatible with iOS and Android-based smartphones and tablets, it's totally free, allows you access to exclusive sign-up offers, you're able to cash out whenever you want and wherever you are, place in-game wagers and take advantage of the Price Rush, which gives you the best odds even after you've placed your bet. Not only that, but you'll have access to some great promotions on a daily basis as well.
Conclusion
There's a reason why this platform is considered to be one of the world's best, and that's because it offers up everything. From the strong selection of sports, through to the variety of odds options and the 24/7 customer support. The whole website is laid out in an easily navigable way as well, while the ability to participate in live betting adds to the appeal of Betfair.